Solar-powered system offers a route to inexpensive desalination - MIT News
Now, a team of researchers at MIT and in China has come up with a solution to the problem of salt accumulation — and in the process developed a desalination system that is both more efficient and less expensive than previous solar desalination methods. The process could also be used to treat contaminated wastewater or to generate steam for sterilizing medical instruments, all without requiring any power source other than sunlight itself.
---
Use One Big Server - Speculative Branches
We have all gotten so familiar with virtualization and abstractions between our software and the servers that run it. These days, "serverless" computing is all the rage, and even "bare metal" is a class of virtual machine. However, every piece of software runs on a server. Since we now live in a world of virtualization, most of these servers are a lot bigger and a lot cheaper than we actually think.
---
Future Trains Could Provide Carbon Capture on Wheels - IEEE Spectrum
Now, researchers propose a portable, practical solution that relies on retrofitted train cars that capture and store carbon dioxide as they shuttle around on their normal routes.
---
Why Study Functional Programming?
Learning functional programming is an opportunity to discover a new way to represent programs, to approach problems, and to think about languages.
---
Coding as a greybeard - Hacker News
"I'm 51 and I've been active in this industry since I was 14. I watched it grow from computers with 4k of memory to having a supercomputer in my pocket. I was learning in the age of Apple II and the Commodore PET. When I realized that I could create an explosion of data with just a few lines of code, I was hooked forever. It was such a magical thing. I found some other guys in my high school that were also into computers and we started meeting regularly on Fridays and Saturdays to… Well, to do some things that were, perhaps, not allowed. Since then, I've started three companies, and I don't think I could have found the same satisfaction in any other industry. I am mindful, these days, that I'm 51 because I know ageism is a thing in tech. There's a moment when you walk into a room and people think, 'Oh, he's a greybeard.' I don't have a beard, but you know what I mean. But when I start to talk about things and find solutions, that disappears. I can't change my age but I am in full control over what I do and what I read and how much time I carve out to write code. I can still see myself doing this when I'm 60, 70 years old. Even older. Because I want to keep doing meaningful things."
---
Why I Hate Frameworks
So you don't have any hammers? None at all?
---
Non-Obvious Docker Uses
Many developers use Docker the old-fashioned way – a docker build and a docker run. Some non-obvious ways to use Docker.
---
More shell, less egg - All this
Relating to the previous link, I can't believe I've never posted a link to this Dr. Drang classic about Donald Knuth and Doug McIlroy's differing approaches to the word counting problem.
---
Performance comparison - counting words in Python, Go, C++, C, AWK, Forth, and Rust
A basic solution reads the file line-by-line, converts to lowercase, splits each line into words, and counts the frequencies in a hash table. When that's done, it converts the hash table to a list of word-count pairs, sorts by count (largest first), and prints them out.
---
What Would Happen If We Slowed Down?
If you worked deeply and regularly on a reasonable portfolio of initiatives that move the needle, and were sufficiently organized to keep administrative necessities from dropping through the cracks, your business probably wouldn't implode, and your job roles would likely still be fulfilled. This shift from a state of slightly too much work to not quite enough, in other words, might be less consequential than we fear.
---
1Password 8 for Mac is now in Early Access! 🎉
Our new 1Password apps are built in Rust, a secure systems programming language famous for its performance and safety. 🦀 You won't see this change but you'll feel it.
---
Making a Tiny Mac From a Raspberry Pi Zero
Making a Tiny Mac From a Raspberry Pi Zero
---
Habits, UI changes, and OS stagnation | Riccardo Mori
Riccardo Mori posting last month on how macOS has stagnated roughly since Lion.
---
MKBHD's iPadOS 15 Review
Marques as always has a great overview of what's coming next in iPadOS 15. I recommend you watch the entire thing, but I did take issue with what he said starting here.
---
Your Wild and Precious Life
---
We Know What You Did During Lockdown
---
Multiple Macs, one location for screenshots – Tech Reflect
---
Delete Previous Word or Path Item in Terminal
---
Digital pollution | Derek Sivers
---
(MacOS) Catalina Crisis – On my Om
---
Maccy - clipboard manager for macOS
---
Arcane Office – Blockchain-based private online office suite.
---
Mudita Pure Kickstarter
---
Apple and why
---
You can heal the internet
---
Hypercritical - Top Gun
---
Outside Magazine - We've Reached Peak Wellness. Most of It Is Nonsense.
---
Moments – 512 Pixels
---
Explore the Flathead Valley
---
Daring Fireball - Tim Cook and Luca Maestri on Intel
---
The Girl on the Train
---
The ultimate guide to DuckDuckGo - BrettTerpstra.com
---
Pat Gallant-Charette Won't Stop Breaking Records | Outside Online
---
There Are Still Reasons to Limit Your Kids' Screen Time | Outside Online
---
Foldimate's laundry-folding machine actually works now - The Verge
---
NetNewsWire Comes Home
---
One Computing Device
I like to think about the future. I'm an optimist, so in my mind, the future looks pretty great, more "Meet the Robinsons" and less "Bladerunner".
---
How to manage your windows like a pro in macOS | iMore
---
Why Apple's education strategy is not based on reality
---
Bringing Back Skeuomorphic Design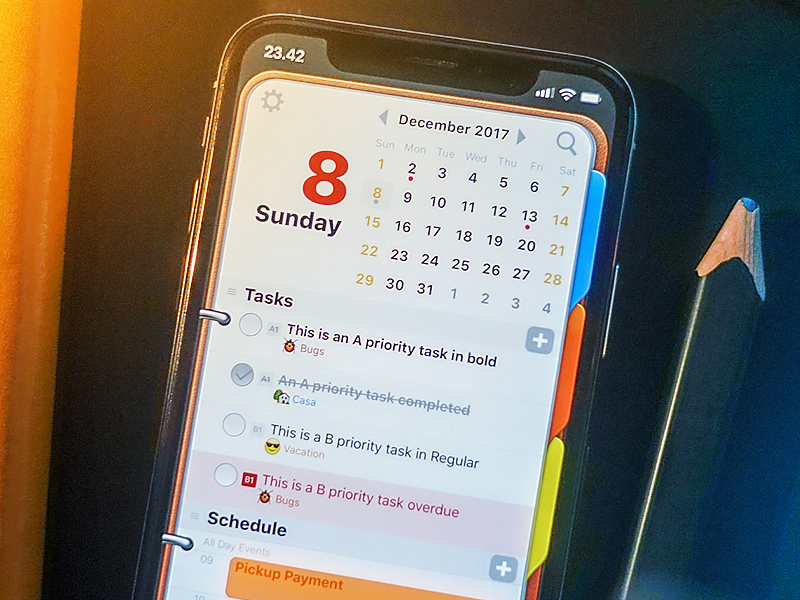 ---
Erasing Complexity – MacStories
---
Scrivener 3 arrives with new interface, export options - Six Colors
---
My Mac and iPhone setup on The Sweet Setup
---
Dyson developing battery-electric vehicle for 2020
---
Shirt Pocket Watch - Cheat Sheet
---
Overcast for iOS 11 coming soon
---
Apple responds to ad group's criticism of Safari cookie blocking
---
I'm Done With Facebook
From Daring Fireball: Facebook Enabled Advertisers to Target 'Jew Haters'
---
xkcd - What to Bring
---
Elon Musk sets date for all-electric Tesla Semi reveal
---
The company isn't a family – Signal v. Noise
---
The Case of the Stolen Source Code
---
JSON Feed
---
Amazon officially unveils touchscreen Echo Show - The Verge
---
Free is Never Free — MacSparky
---
Rolling your own VPN server - Six Colors
---
Could this be the future of the Mac?
Spoiler: yes.
---
Spend the Night in the Sky
---
The Arrival of Artificial Intelligence
---
Creating custom Perspectives in OmniFocus – The Sweet Setup
---
This is the Samsung Galaxy S8, coming April 21st - The Verge
---
Instapaper Premium is now free for everyone
---
Images of New MacBook Pro With Magic Toolbar Leaked in macOS Sierra 10.12.1 - Mac Rumors
---
IBM confirms that Macs are less expensive than PCs
---
'hello again' – 512 Pixels
---
David Ogilvy 10 Tips on Writing
---
Paralyzed man feels touch through mind-controlled robot hand
---
Steve Jobs on Apple's Courage
---
Vesper Sync Shutdown Tonight, Open Source Plans
---
Daring Fireball - Mylan's EpiPen Price Gouging
---
Strava - Strive
---
OmniFocus Video Field Guide Update Coming Sunday — MacSparky
---
Henry Ford and the Actual Value of Education
---
James Gowans
---
The Motivation Toolkit
---
Master Plan, Part Deux - Tesla Motors
---
CHANGER paperbacks are now available! - Matt Gemmell
---
Top Four
---
Worlds apart - All this
---