What Would Happen If We Slowed Down?
If you worked deeply and regularly on a reasonable portfolio of initiatives that move the needle, and were sufficiently organized to keep administrative necessities from dropping through the cracks, your business probably wouldn't implode, and your job roles would likely still be fulfilled. This shift from a state of slightly too much work to not quite enough, in other words, might be less consequential than we fear.
1Password 8 for Mac is now in Early Access! 🎉
Our new 1Password apps are built in Rust, a secure systems programming language famous for its performance and safety. 🦀 You won't see this change but you'll feel it.
Making a Tiny Mac From a Raspberry Pi Zero
Making a Tiny Mac From a Raspberry Pi Zero
Habits, UI changes, and OS stagnation | Riccardo Mori
Riccardo Mori posting last month on how macOS has stagnated roughly since Lion.
MKBHD's iPadOS 15 Review
Marques as always has a great overview of what's coming next in iPadOS 15. I recommend you watch the entire thing, but I did take issue with what he said starting here.
Your Wild and Precious Life
We Know What You Did During Lockdown
Multiple Macs, one location for screenshots – Tech Reflect
Delete Previous Word or Path Item in Terminal
Digital pollution | Derek Sivers
(MacOS) Catalina Crisis – On my Om
Maccy - clipboard manager for macOS
Arcane Office – Blockchain-based private online office suite.
Mudita Pure Kickstarter
Apple and why
You can heal the internet
Hypercritical - Top Gun
Outside Magazine - We've Reached Peak Wellness. Most of It Is Nonsense.
Moments – 512 Pixels
Explore the Flathead Valley
Daring Fireball - Tim Cook and Luca Maestri on Intel
The Girl on the Train
The ultimate guide to DuckDuckGo - BrettTerpstra.com
Pat Gallant-Charette Won't Stop Breaking Records | Outside Online
There Are Still Reasons to Limit Your Kids' Screen Time | Outside Online
Foldimate's laundry-folding machine actually works now - The Verge
NetNewsWire Comes Home
One Computing Device
I like to think about the future. I'm an optimist, so in my mind, the future looks pretty great, more "Meet the Robinsons" and less "Bladerunner".
How to manage your windows like a pro in macOS | iMore
Why Apple's education strategy is not based on reality
Bringing Back Skeuomorphic Design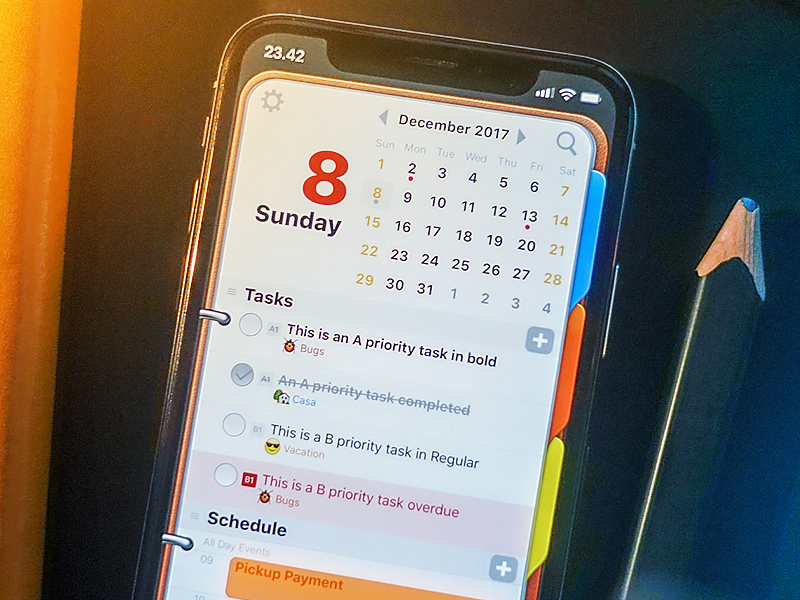 Erasing Complexity – MacStories
Scrivener 3 arrives with new interface, export options - Six Colors
My Mac and iPhone setup on The Sweet Setup
Dyson developing battery-electric vehicle for 2020
Shirt Pocket Watch - Cheat Sheet
Overcast for iOS 11 coming soon
Apple responds to ad group's criticism of Safari cookie blocking
I'm Done With Facebook
From Daring Fireball: Facebook Enabled Advertisers to Target 'Jew Haters'
xkcd - What to Bring
Elon Musk sets date for all-electric Tesla Semi reveal
The company isn't a family – Signal v. Noise
The Case of the Stolen Source Code
JSON Feed
Amazon officially unveils touchscreen Echo Show - The Verge
Free is Never Free — MacSparky
Rolling your own VPN server - Six Colors
Could this be the future of the Mac?
Spoiler: yes.
Spend the Night in the Sky
The Arrival of Artificial Intelligence
Creating custom Perspectives in OmniFocus – The Sweet Setup
This is the Samsung Galaxy S8, coming April 21st - The Verge
Instapaper Premium is now free for everyone
Images of New MacBook Pro With Magic Toolbar Leaked in macOS Sierra 10.12.1 - Mac Rumors
IBM confirms that Macs are less expensive than PCs
'hello again' – 512 Pixels
David Ogilvy 10 Tips on Writing
Paralyzed man feels touch through mind-controlled robot hand
Steve Jobs on Apple's Courage
Vesper Sync Shutdown Tonight, Open Source Plans
Daring Fireball - Mylan's EpiPen Price Gouging
Strava - Strive
OmniFocus Video Field Guide Update Coming Sunday — MacSparky
Henry Ford and the Actual Value of Education
James Gowans
The Motivation Toolkit
Master Plan, Part Deux - Tesla Motors
CHANGER paperbacks are now available! - Matt Gemmell
Top Four
Worlds apart - All this