Over the Air
I recently dropped our cable service and switched our home entertainment system to be centered around the Apple TV (the box, not the service), with an app installed to watch live news, sports, and other local channels. Here's how I did it.
It's the Price
The recent hubbub about Apple's earnings guidance has "analysts" and pundits talking a lot about China and the global economic situation. I'm sure there's something to all that, but my take is simpler… the new iPhones are priced too high.
An Optimistic 2019
CPG Gray and Myke Hurley have been talking about assigning a theme to a year on their Cortex podcast, in lieu of new year's resolutions. I quite like this idea, and I've decided to adopt it. I've decided that my personal theme for 2019 is finishing.
Merry Christmas
Let's give generously this Christmas, and here's to a happy new year. May the peace of Christ, which surpasses all understanding, guard your hearts and minds in the coming months.
Software Subscriptions and Bundled Apps
The Omni Group's recent announcement that they'd have a subscription option for OmniFocus has me thinking about how I'm going to be handling third-party software in the future. I'm not angry at them, they are still (for now) offering OmniFocus for purchase, but I wonder how much longer they'll want to keep with the old-style model of licensing when and if subscriptions turn out to be far more lucrative.
The Typewriter Project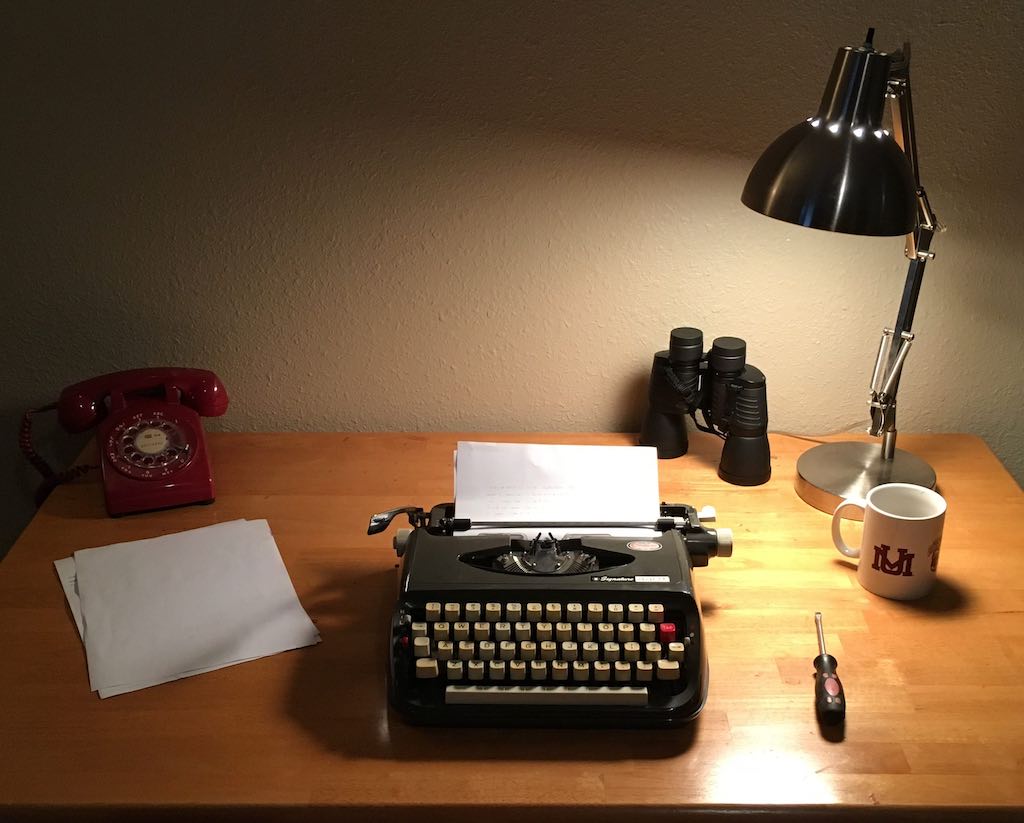 Less, But Better
I'm becoming increasingly interested in an emerging line of Eink devices that intentionally do less than other devices in the same category. Of course, the oldest and most widely known device is the Amazon Kindle, which my wife still claims as the best gift I ever gave her.
Two Months With iMac Prime
The 27" iMac 5K is unquestionably the best computer I've ever owned. After two months of daily use, for twelve to fourteen hours per day, I can say without reservation that this machine is fantastic. Obviously, I'm late to the bandwagon on this, better reviews than what I would write have already been written, and although those reviews are from 2014, they hold up well enough for the 2017 upgrade too. The screen is beautiful, like a massive glossy magazine. The machine is fast enough so I nearly never have to wait. Basically, it's everything I need from a computer.
My Favorite Things About Fall 🍁🍂
Top Four is one of my favorite podcasts. Possibly my number one, although its probably tied with ATP and The Talk Show. It's a strong contender. Marco and Tif Arment chat about some random group of things, and attempt to rank said things, usually failing because they can't make up their minds. It's adorable. It's clear that the two of them are having a good time, and listening always makes me laugh.
My Next Mac
So, yesterday I cleared off my desk and tried to work with nothing but my MacBook again. No standing desk, no external monitor. It looked great, but honestly, it felt terrible. I wound up hunched over the desk staring down at the screen. After an hour or so of this I decided, yet again, that this style of work is just not appropriate for me.
On Computing Tomorrow
I've been thinking more about my defense of the Mac as a long-term computing platform, and I'm slowly coming around to understanding that at the base of my ideas is a type of willful ignorance that I should know better than to indulge in. The world is changing, computers are changing, and how we work and interact with them is changing drastically. To get to the root of this, let's follow the five "whys" of why I need a Mac to work.
More Phish
This is fantastic, pure Phish. I'm so glad that they've just been getting better over the years.
Thinking it Through
My favorite new-to-me site is Farnam Street by Shane Parrish. I've been experiencing a slow change of interests over the past several months as Apple and tech related news fails to grab my attention. The last time this happened I lost more than a professional interest in the open source community, an area I left years ago and haven't looked back. I can't find it in me to care enough about iOS 10 to read the book-length treaties on it at MacStories, in fact the latest iPhone or iOS barely interests me enough to learn what's in it and if it is anything of use to me.
Life Long Intellectual Pursuits
I've always been curious. I remember having coffee with my cousin and her boyfriend as a teenager and saying, in my naïvety, that I wanted to know everything about everything, to know all that was knowable. Even then I knew that was impossible, but that didn't stop me from wanting to know as much about the world as I could. As time went on I started to dive deeply into different subjects, and put off others till I had more time. Now that I'm looking at forty and an ever growing list of things to learn and do, I'm experiencing something new… panic at the thought of running out of time.
Overload and Archive
A few years ago I adopted David Sparks' paperless workflow. I installed Hazel and TextExpander, bought a ScanSnap scanner, and started dutifully scanning all of my paper that came in the mail. I scanned the water bill, my bank statements, and notices from my son's second grade teacher about upcoming snack days. Over the years, and 2000 documents later, I've got a massive database of useless facts.
Everything Changes
And everything is changing for me again. The CTO of the company I work for spoke with me yesterday, our office is being shut down and they are laying off the staff. I've got till March 1st to find something new.
US Cellular Strikes Back
Let me start by saying that US Cellular has the best coverage in Iowa. No matter where we go in the state, we've got a great signal, almost always in LTE. My Internet access is fast, and I can't remember the last time I dropped a call. The cellular service is great, and the only reason I stick with US Cellular. After days like today I need to remind myself of these facts, because almost every time I interact with them face to face, on the phone, or over the Internet I leave frustrated and feeling like I'm being duped.
A Runner
My workout this morning called for five miles. Run two, walk one, run the last two. I think in the Fall or Spring it would have been fairly easy, but today, in the July heat and humidity, every step felt like dragging a pair of anchors. My muscles gave out sooner, my breath ran out faster… it was a hard workout. I finished it though, because what I've learned is that even when it's hard, even when you are having a tough time and not going as fast as you'd like, you always have to finish.
On Computing
I often daydream about not caring about my computer, and being able to go blissfully through my life with little concern about the mix of applications, storage of data, and how I interact with the machine, but that's just a dream. The truth is I do care. I care a lot. I care enough that I've developed my own personal philosophy of computer use. I use this to determine which services and applications I will most likely be happy with. It helps me, maybe it will help you too.
Reading at Night
A couple years ago I started reading classic books to my boys before bedtime. We started with The Adventures of Tom Sawyer, then Adventures of Huckleberry Finn, followed unsuccessfully by Twenty Thousand Leagues Under the Sea 1. Next, we read one of my all time favorite books, Treasure Island, the classic pirate story from which nearly all other tellings of pirates are cribbed. We might go back and read that one again someday.
I'm a bit mystified by people who enjoy this book. My boys and I found it quite boring, and I wound up skipping large sections devoted to describing, in detail, the fish and other underwater life. ↩
Cellular Options
I pulled into the gas station on my way home after a long day, picked up my phone in my left hand, intending to put it in my pocket, and opened the door of my pickup. While pushing the door of the truck open, the phone slipped out of my hand and fell face down on the pavement, shattering the screen.
Merry Christmas
It's nearly midnight on Christmas Eve. I'm the only one awake, perhaps with the exception of my dog, Oliver, although as the minutes tick by I'm less sure of him. Tomorrow morning the kids will wake us up earlier than we'd like, and we will tear into the presents, eat a wonderful breakfast, and have a fantastic day enjoying each others company.
Site Design Non-Update
The site design of jb was very nearly upgraded tonight. Well, upgraded is not quite the word for it. Changed is more accurate. Even though I'm quite happy with the look and feel of the site, from time to time I get frustrated with one aspect of it or another. I've spent more time that I want to admit thinking about readability, fonts, font sizes, spacing, kerning, and the like, but occasionally I'll look at another site and think "that looks good". And then mine looks like crap for a day or so.
Burn it Down
As the year comes to an end it would be easy to look back and see all of the things that didn't work. Mistakes were made, endeavors failed, and it was generally a tough year. Some things that I thought would work out did not, and some things I thought I had more time before I had to deal with came due. Sometimes, when things aren't working out, it's best to burn it all to the ground and start over.
A World of Things
It is very easy when living in the technology field to ignore the actual physical space we occupy. Skills once thought essential are slowly being forgotten as we move farther and farther away from a culture of being able to create and fix things.
The Computer User I Want To Be
Learning about computers can be a dangerous thing. Breaking though the veneer of graphical interfaces reveals inefficiencies and inaccurate metaphors. For example, rsync copies files faster and uses fewer resources than the Finder. Copying lots of files is what rsync does best, but being a command line power tool there are a few subtleties with using it that are not readily apparent. As your skill grows, so to does the tendency to eschew modern tools in favor of "power tools". You begin to see the inefficiencies of graphical tools as problems, problems that you need to fix. I've been down that road.
The Winchester Imperative
Major Charles Emerson Winchester III was a fictional character on one of my all time favorite shows, M*A*S*H. While he had many memorable scenes, the one that I remember best is the first episode he is introduced. Winchester was sent to the 4077th to assist while they were short handed, and he was not used to the incredibly hectic pace that the doctors needed to work at to save the lives of the wounded. The doctors tried to prod Winchester to move faster, but he responded with a line that's been echoing in my mind lately.
A New World
CocoaHeads changed my life. This afternoon I am killing time in a coffee shop, about to head to work for an appointment with HR. When I get there, I'll turn in my badge, they will wish me luck, and I'll walk out the door. Monday, I start a new chapter in my life with T8 Webware. To say that I'm a little nervous about this change would be an understatement. I've spent time with these guys, they are smart, ambitious, and I believe in what they are doing. I'm going to be part of building something awesome, and I'm extremely excited.
Writing Online
Every so often I get the inkling to make this site more than what it is. Since 2008 I've been writing fairly regularly here about whatever comes to mind, and in doing so I've covered several topics. I've written about Android and Mac geekery, success and failure in Mac development, business, psychology, systems administration, personal stories, and memories. More than anything, I have tried to inspire others, and sometimes, if I'm very, very lucky, I succeed.
Stereotypically
Apple makes great products, and Brooks Brothers makes great clothes, but neither make the man. It is pure foolishness to judge another person at all, much less using a measure as trifling as a choice of computer.
The Experiment
The Experiment
Principle of Least Software
Use only the software that you need. No more, no less. Choose one application for each task, and become an expert on that application.
Opinionated
As a carpenter has his tools, so do I, as a "knowledge worker" have my computer. I spend many hours a day with my Mac. I have my workflow honed and finely tuned, and I know when something is wrong with my computer, when there is more friction than there needs to be. I am a Systems Administrator, so my knowledge work is to ensure that other people can get their work done. My job is to keep the servers, services, and systems I support up and running 24x7. The tools I use to get this job done mean a lot to me, and over the years I've tried many of them with varying levels of success. I know exactly what my ideal setup is, and I'm working towards filling out my toolbox with the very best as I strive to bring my craft to the next level of mastery.
At home, my computer is college, entertainment, finance, photos, blogging, and fun. Mostly fun. There have been times when I've walked away from even owning a computer at home, seeing it as a distraction more than anything, but I always come back to wanting one around, if for nothing else than as an outlet for creativity.
In the years that I've been using computers, I've found that I desire simplicity more than configurability. Favoring fewer options over more. The machine I use needs to be beautiful to look at, because I spend a lot of time looking at it. It needs to be simple to use, because I have work to do, photos to edit, words to write, and I don't want to have to mess with anti-virus updates or X windows crashing because of some beta driver bug that made its way into the mainstream release. I just want my computer to let me do what needs to be done.
Beautifully designed and crafted, simple to use, powerful… my computer needs to be a Mac. No one else on the market can release a computer that matches a Mac. I'm not sure why, it's like they don't know how. They try, but they fail.
Open source operating systems like Ubuntu are not as good because there are far too many cooks in the kitchen. Ubuntu is not an operating system like OS X is an operating system. It's the Linux kernel, the ext4 filesystem, the Xwindow system, the Gnome desktop, the Firefox browser, and thousands of other open source packages and applications that work loosely together, and are developed by different teams. OS X is developed by Apple.
Windows XP is a suitable operating system to work with at the office, but I am far more productive on a Mac. With tools like Yojimbo, Spotlight, and Quicklook, Macs are far better suited for information management. I hear Windows 7 is nice. My wife has it on her PC, and so far, it is still just a PC.
As much as I love Macs for their design and ease of use, I also see the faults of some business decisions Apple has made in the past few years. The App Store is either a resounding success or a horrible failure, depending on who you talk to. In sheer volume, 200,000 apps is a lot of applications, but like Windows was last decade, most of them are crap. Apple's decision to approve each app in the store is admirable to a degree, but they are not executing well at all. Some people are philosophically opposed to the app store, saying that the iPod/IPad/iPhone ecosystems should be open for any application to run on them, as is the case on the Mac. I do not care about this aspect, but I do wish that Apple would fix their approval process to make the system much more transparent. There should be clear cut guidelines on what is acceptable and what is not, and those guidelines should be applied across the board. Random app store rejections are the running gag of the current implementation. Its wrong, and it needs to be fixed.
Is the Apple today the same as the Apple so many fell in love with in the '80s and '90s? The scrappy underdog that just won't die? No, and I couldn't care less. I find it interesting that the era that some romanticize is actually one of the worst in the history of the company. Back when Apple was allowing clones and releasing crap with the Apple logo on it. Good riddance to bad rubbish. OS 9 was not interesting to me. OS X is.
I was using Linux and OpenBSD when I first heard of OS X, my first iBook was a revelation. Finally, someone had put a decent GUI on a Unix box. Apple has only gotten better from there.
I know there are a lot of very smart people who disagree with me. Lets let the next twenty years decide who is right.
Along with the app store debacle, there is Apple's stance on Flash. My personal feeling is that if Flash were a true open standard, if anyone could create Flash applications without relying on Adobe, it'd be a whole different ball game. As it is, Flash is controlled by Adobe in its entirety, and that seems wrong for the Internet. The Web is the great leveling field, a mechanic in Kansas has the same chance of creating an awesome web site as a multi-billion dollar corporation. All the tools to create amazing web sites are free, and the specs for building the sties are readily available. All you need is a computer, Internet access, and a text editor. With Flash, you need some pretty expensive software. Also, having run a video serving site in the past, I can tell you that HTML 5 would have been a Godsend back then. It would have been so much simpler to just drop a .mov or .ogg file enclosed in video tags than the junk code I had to put in.
I'd like to watch Hulu on my iPad. Netflix already rocks on it. Flash is not a necessity.
Finally, there's Google. I used to love Google, back when it was a search engine. They could have been happy with just being the best search engine in the world, and making billions, hand over fist, but no… they had to go and get greedy. Eric Schmidt sat on the Apple board of directors and saw what Apple was doing, and thought to himself… Google could do that. So, they "stabbed Apple in the back", and released Android, and then the Nexus One, a direct competitor to Apple's iPhone. Bad form, old boy, bad form indeed.
Also, I don't like Google's business model any more. I used to be fine with it, when they would show ads on the search results. Now though, Google wants to watch everything you do online, and figure out a way to monazite your activity. Your email, calendar, RSS feeds, photographs, friends, chats, videos, music, there's even Google Health where you can put your medical record in Google. It all goes into the big black box that is Google, to be analyzed for who knows how long. Me, I like to be a little more honesty with my transactions. That's why I pay for my email service. I give Apple money, they give me an email address, and a few other perks. It's as simple as it gets.
I think that about does it for the major topics of the day. Of course, in all these things, I might be wrong. However, if I am wrong, and you want to call me out on it, I suggest you do your homework first. I've done mine. I have several years of experience, and a finely honed sense of craftsmanship.
I am, after all, strongly opinionated.